Book Tour, Review, and Giveaway

I Can Be… Fun STEM Activities for Kids
Children's Activity Books
4 Book Series
Filled with entertaining and educational activities, these full-color books are the perfect way to introduce young children to many of today's most important STEM subjects.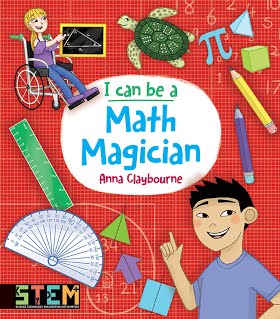 I Can Be a Math Magician: Fun STEM Activities for Kids
978-0-486-83922-6
Date Published: 10/16/2019
Pages: 64
Suggested Ages: 8-12
Publisher: Dover Publications
Math is magical with this colorful activity book! It's easy to entertain
family and friends as you complete mysterious number squares and "Magic
Multiples," play a prime number card game, and draw fractal trees. This
book offers a fun and meaningful way to explore how math is an important
part of everyday life.
My Thoughts
I can be a Math Magician is a book full of fun facts, tricks, and activities. As a person who grew up intimidated by anything remotely connected to math, I'm convinced that if this book had been available I might have changed my thinking. Or at least felt somewhat differently about math.
The pages are not brimming with facts and figures that could make it feel overwhelming. There's lots of white space on each page and the sentences are spread decoratively around. The illustrations are fun, bright, and for a person like me who loves mysteries and thrillers, this all felt mysterious as it unfolded. Sound weird? Yep, it does to me too. But here is an example that might help you understand.
Not only will the reader learn fun facts, but most everything is followed up with activities to demonstrate and help make the point.
My Concerns
My very small, not-hardly-note-worthy concern might be that some of the text doesn't always fit into the designated places on the illustrations.
Final Thoughts
My first thought was so say if you have a child who loves math, this is the perfect book. But just as quickly came the realization that I was absolutely not interested in math, so with that thinking my parents would not have picked this book up for me. Bad mistake. Books like this one are sure to make the reluctant students more interested.
Thumbs up. Not having seen the other books in this series, I would have to say based on this book I would absolutely give them a try too. This series seems perfect for libraries, classrooms, and home use.
My thanks to the authors, publisher, and RABT Book Tours for the ability to read a gifted eBook and to post my honest opinion.
Rating:

☆☆☆☆☆
---
About the Author Anna Claybourne
Anna Claybourne is an award-winning science writer and has authored many
books for Usborne Publishing, A&C Black, and Franklin Watts. She writes
mainly nonfiction, covering topics such as science, art, wildlife, and
fashion. In addition, she has also published books about Shakespeare, myths
and legends, and retellings of literary classics. She is based in
Edinburgh.
About the Illustrator
Katie Kear is a young British illustrator who has been creating artwork for
as long as she can remember. She loves creating new worlds and characters,
and she hopes to spread joy and happiness with her art. She is a graduate of
the University of Gloucestershire with a First Class BA Hons Illustration
degree.
About the Author Claudia Martin
Claudia Martin is the author of many books and online articles for children
and young adults. Her favorite subjects are history, current affairs,
geography, the natural world, and technology. She lives in London with her
family.
---
---
Additional Titles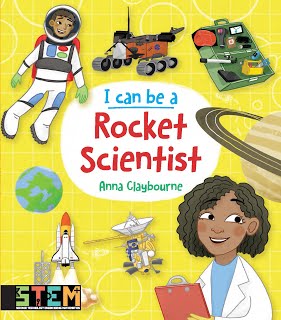 978-0-486-83923-3
I Can Be a Rocket Scientist
Date Published: 10/16/2019
Publisher: Dover Publications
Find out what it takes to become a rocket scientist! With this
out-of-this-world activity book, you can make a scale model of the solar
system, build a prototype rocket from a plastic container, and try real
astronaut fitness exercises. You'll discover Earth's place in space, fun
facts about the other planets in our solar system, how gravity works, and
lots of other fascinating cosmic information.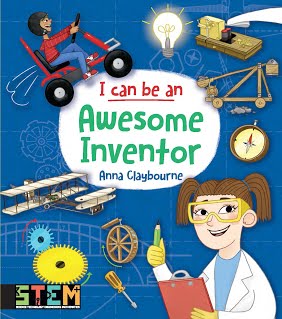 978-0-486-83924-0
I Can Be an Awesome Inventor
Date Published: 10/16/2019
Publisher: Dover Publications
Put on your thinking cap and get inventive! Make a musical instrument
from glass bottles, use a drop of water to create a microscope, develop your
own computer programming language, and more! Filled with interesting fun
facts and entertaining activities, this book will inspire you to create your
own inventions.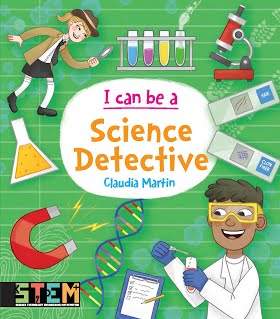 978-0-486-83921-9
I Can Be a Science Detective
Date Published: 10/16/2019
Publisher: Dover Publications
Do you have what it takes to become a science sleuth? Of course you do!
Discover how to gather clues and collect evidence to catch a thief, follow
instructions to extract DNA from strawberries, take your own fingerprints,
analyze handwriting, and much more. While you're having fun inspecting,
detecting, and experimenting, you'll be learning all about the intriguing
world of forensic science and its important role in real life.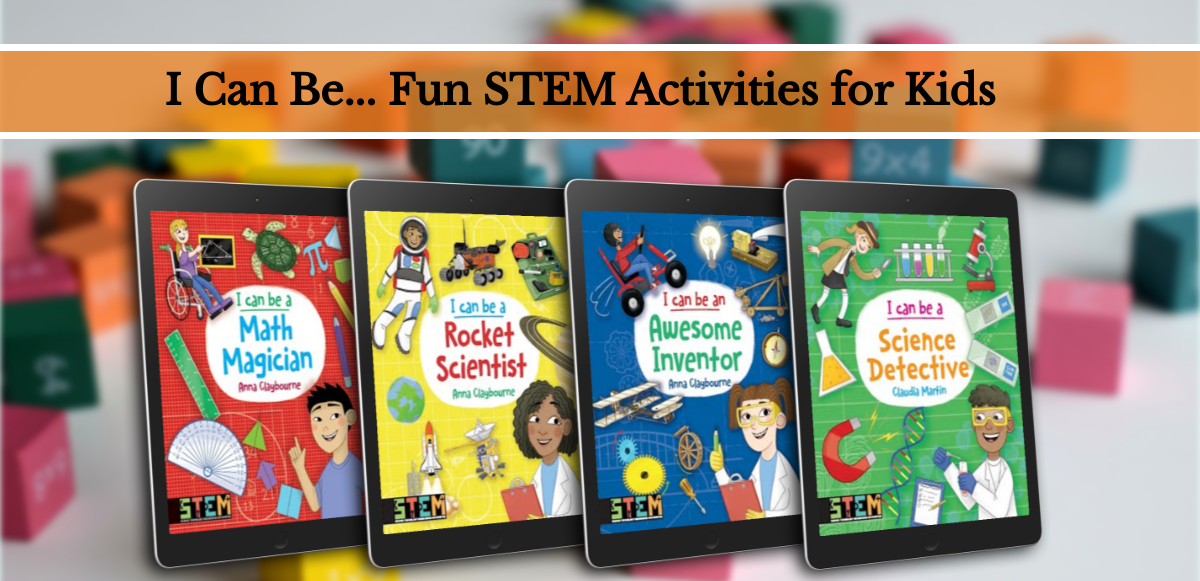 Publisher Contact Links
STEM Books For All Ages